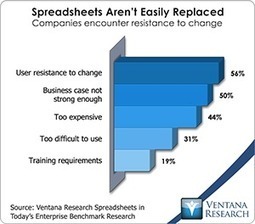 Ventana Research's Tony Cosetino makes some interesting points about the trouble Microsoft is having with its analytics and mobilitiy strategy. Chief among its challenges is its BI/Analytics cornerstone is Excel, a product widely used, but not widely used well. Combine this with the fact that Microsoft's BI stack isn't so much a solution, but a collection of technologies, and Microsoft's mobility play has been more or less an afterthought, and you can see why they have the hurdles they do.
Microsoft's weaknesses aside, it remains a leader in the BI space, primarily due to the ubiquity of its software in the workplace and the power and flexibility within those tools. The tradeoff seems to be ease-of-use, which is where companies like Halo BI come in. Our BI and Analytics platform uses Microsoft's BI stack as a foundation because all the technology components of a world-class analytics system are there and they're already present in 90% of businesses. Halo's "secret sauce" is wrapping the hodge podge of tools in a nice, simple to use package, and adding a few extras that Microsoft left out — data quality tools, SS*S package generators,mobile/cross platform visualization, collaboration features and so on.
With Microsoft's new push into big data and in-memory analytics it will be interesting to see what comes next. But given the company's core competencies in technology and desktop software development, there's no doubt in my mind that there will still be plenty of opportunity for companies like Halo BI.